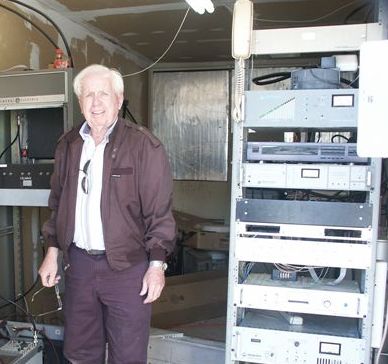 Doug Spreng - W7MCF
Colorado River Remote Base Association (CRRBA)
- April 19, 2010
Doug Spreng W7MCF "Mighty Cat Fish" has passed away. Doug had been in the hospital at Lake Havasu City for over a week. What started out as minor but troublesome problems developed into pneumonia. He died around noon today April 19. Doug was 78.
I first met Doug W7MCF (and his wife at the time Ruthie WA6ZVN) while they were doing patrol boat ham radio support for the Parker 9 Hour Enduro and Havasu Classic boat races. As race enthusiasts, my wife Cheryle and Ruthie became good friends and Doug and I would play radio during our many fishing trips to LHC and Parker. These friendships led to the building of the Lake Havasu remote by Denny Chase W6HDC and myself for installation at Doug's house. Doug's QTH is high up near the apex Havasu City's alluvial fan. Later, the W7MCF remote was linked into Guadalupe Peak.
Doug was an engineer and was always building microprocessor based toys. He designed and built his own uP based repeater controller in the '80's and helped Byon N6BG develop the famous TinyTrac APRS mini TNC. When he wasn't tuning or repairing radios, he was playing golf.
Doug was inducted to the Radio Control Hall of Fame on May 2009 for his work in developing the first proportional servo control of R/C aircraft. His biography can be read at the following URLs:
http//www.rchalloffame.org/Inductions/Class02/DougSpreng/index.html
https//www.modelaircraft.org/files/SprengDoug.pdf
Cheryle and I will greatly miss Doug and his dry humor. May God keep him now in the comfort of his arms.
-Dennis N6DD