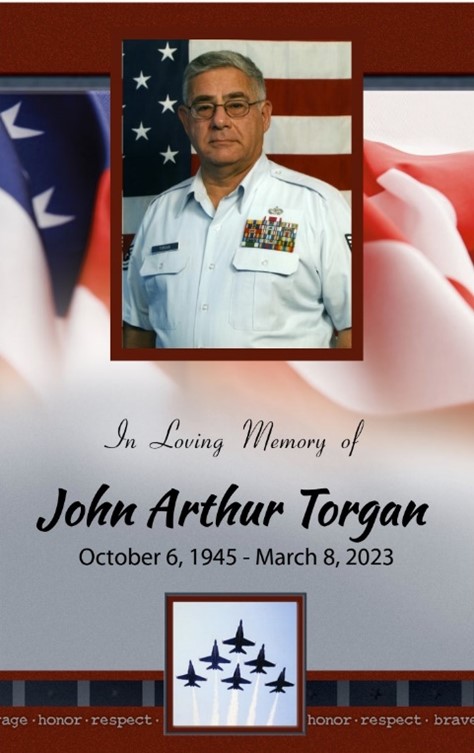 John Arthur Torgan
KLØQD, ex N7GIR, KA7QGR
South Mountain Users Group
- October 6, 1945 - March 8, 2023 -
Obituary

It is with sadness that we announce the passing of John Arthur Torgan, a son, brother and friend. John lived his life with a deep commitment of service to his community and nation. He served as a Deputy Sheriff, with the National Guard, U. S. Air Force, and as a member of the American Legion.

John enjoyed technical careers installing, maintaining and operating radios. He had an FCC Extra Class Amateur Radio license and was very active with ham radio operators and organizations around the country. He was also an avid shooter and member of the National Rifle Association. John lived his life his way and took every opportunity to help others along his journey. He was preceded in death by parents Harold D. Torgan, Muriel J. Eaton and sister Suzanne Weston.

He is survived by sisters Carol Torgan, Diane Umbreit and family members Eric, Scott, and Mark Umbreit and Steve Weston.

A Graveside Service is scheduled for
Friday, April 21, 2023 at 1:00 PM
(Meet at Reception Center at 12:30)
National Memorial Cemetery of Arizona
23029 N. Cave Creek Rd.
Phoenix, Arizona

A reception is scheduled to follow the Graveside Service at
VFW Post 9400
804 East Purdue Ave.
Phoenix, AZ 85020

In lieu of flowers, memorial contributions may be made to the American Legion or the 100 Club of Arizona.


---
I have the unpleasant responsibility to report the passing of one of the original members of SMUG.

John Torgan KL0QD is now a silent key.

He will be missed by all that knew him.

Dennis - WA7ZZT


---
Crap.

I first met John back in 1978 when I was working in an electronics store here in San Diego. He came in every so often and we hit it off both being radio nerds. John wasn't a ham operator at the time but he was in the communications field in installation and repair. He actually gave me my first Motorola 2135 key (a REAL one! Not a copy). I still have it to this day.

Over the years, I talked John into getting his ham license and we ended up also working for the same 2-way radio firm based in L.A. John was a very straight laced guy who reminded me a lot of Jack Webb's character, Joe Friday. John DID enjoy his whiskey from time to time but I never saw him overdo it. He was an 'old school' man who lived by 'old school' values and traditions. He loved old cars, radios (obviously), firearms, riding his motorcycle when he was younger and many other things too numerous to list here.

I helped John pack up his possessions in preparation for his move to Snowflake, Arizona where he was going to work for a buddy of his who owned the Snowflake office of Canyon State Communications. After a few years, John relocated to the Phoenix office of the company before he retired from the company.

Over the years, John and I lost touch, but we reconnected many years ago and I visited him in Phoenix and I stayed with him a few times. Recently, after a few hospital stays, John eventually moved into an assisted living facility and I spoke to him after he got settled in. I could tell that he didn't particularly like moving out of his home, but, he seemed to realize that he needed some assistance as we all do later in life.

John also served as a Reserve San Diego County Sheriff's Deputy, he served in the National Guard and later in the USAF Reserve as a Tech Sgt.

John was a good friend and I will definitely miss our long talks, dinners together and such. John was 'good people' as he used to say of others that he liked.

73, OM.

You will be missed.

[Steve Smith - WB6TWL]


---
Hello Mr. Smith,

I've been a White Tanks member for a number of years, but I don't do much on the system. Still, I just want to tell you that what you wrote about John is incredibly moving. It reminds me of the kind of thing Arron Sorkin writes. If you ever write a book, I'll buy a copy!

Kind regards, Peter N7UZR


---
John and I have been friends since he moved to Phoenix. He and I had many adventures over the years. Our thing was talking almost every Thursday and many days in between. It was always strange how so much of our lives paralleled. Maybe thats why we stayed friends for so long as John could be very intense at times. I also will miss so many things we shared. He is one of my very best friends and a mentor. 73 my friend. May you pass easily through the gates....

Adam

KF7EZ


---
Yes, Adam,

John could be very intense sometimes. But you ALWAYS knew where you stood with John and he was a true friend. I will always remember his little quirky things like how he would hand/present a business card to someone, his love of esoteric cars (Mini Cooper and fairly recently purchased Bentley that he flew back east to buy and then drive back to PHX) and so many other things. I have a couple of pix of John sitting in my father in law's Porsche Spider before taking a ride and immediately after the ride. Before, John was sitting there. After, John had the BIGGEST smile that I've ever seen on him.

John was definitely good people.

Steve

WB6TWL


---